Need a breakthrough that will make you more money?
Maybe you've been feeling like there's something blocking you from bigger success.
It's time to free yourself from limiting stories about money.
This is for you if…
You want to feel abundant every single day and fully trusting that amazing clients are on their way to you.

This isn't just about manifesting money, it's about your soul feeling full.

You want to raise your level of influence and massively expand your impact.

You want to attract positive, grateful clients, who do the work and get big results.

You know it's more than time to end the feast or famine struggle for good.

You want making money to feel easy!

You want to trust yourself that when you set a goal, it's happening, no matter what.

You want to make money while you spend time out in the world having fun.

You want to serve more. This isn't just about cash in the bank, it's about the level of impact you're creating.
You are so freakin powerful!
You can have everything you desire, if you choose it.
Get clear, release the bullshit that says you can't have it, and make the decision that it's yours.
If I told you that this was the one thing missing from your marketing plan, would you do it?
I THOUGHT SO!
WHAT YOU'LL LEARN IN THIS COURSE IS THE FOUNDATION OF MY MULTIPLE 6 FIGURE BUSINESS (THAT I CREATED IN LESS THAN A YEAR).
There's more for you
I know what it's like to know in every fiber of my being that there's more for me, but not know how to get there. I was a server in the restaurant industry when I started my business, living in a 12x12 bedroom. I was hoping that clients would say yes and my business would take off.
It's when I stopped hoping and actually decided that I was going to be wealthy and have my desires, that everything I wanted started showing up in my life.
Decide and your desires appear
I manifested 6 figures in 7 months, worked with the top coaches in the world, traveled around the globe, and created a multiple 6 figure business in one year.
I've had $100,000 months, consistently book out my coaching programs, and have incredibly successful clients too.
It's meant to be inspired
It's meant to feel easy
It's meant to feel abundant
All of this came from changing my perspective, knowing how to overcome the lies in my mind, and truly understanding what creates success.
I'm showing you how to get aligned, raise your vibration to attract your desires and take inspired action. It's from that place, miracles happen. I know you want miracles in your life. I know you need a miracle right now. This is it.
This Is It
"Ariel was the first coach to truly give me the loving (but firm!) kick in the butt that I needed to actually start accessing the power I knew I was capable of bringing as a coach. Before we started working together 1:1, I'd literally made $2,500 the ENTIRE year before. Ariel invited me to make the powerful decision to really do what was necessary for my business, and it totally paid off. I made $20k in sales and $12k cash during our first month together! It's all thanks to Ariel showing me that I can do business based entirely on my intuition, and giving me the permission slip I needed to do things my way. If you get the opportunity to work with Ariel, take it, because she truly is a powerful mentor to have on your side."
Niki Wells
Success Mindset Mentor
"Before working with Ariel, I had was running a 6 figure business, super burnt out, doing everything I was taught I "had to" do in my business. Working with Ariel has been one of the most transformational and FREEING experiences of my life. Within a few weeks I was able to turn my monthly income into my weekly income creating $10k Days, $15k weekends and $17k weeks in cash! I even had my 1st $60k month working only 10hrs a week with the world's best clients. Working with Ariel taught me to put myself, my truth and my voice 1st and that confidence not only transformed me financially - 6 figures in 6.5 months - but it also allowed me to have deep fulfillment and fun too."
Shaneil Stewart
Success Coach
The Content
→Week One:
⚡️ How To Manifest
Right out of the gate I'm showing you the actual process for manifesting anything you want. This is the rinse and repeat process that you can use over and over again. You'll get clear on your vision and choose the path of least resistance, which makes manifesting easy. Ditch the money struggle for good! Attract abundance in every area of your life.

→Week Two:
⚡️ Mastering Your Mind
Getting exactly what you want is about knowing how to focus your mind every single day. I'm giving you daily practices and my Being Aligned Meditation to get into the state of being that energetically attracts to you what you want. Receiving the more that you are meant for is about understanding how your mind works and knowing that you have the power to overcome every belief that says you 'can't' and make it an 'I will and it's already done'.

→Week Three:
⚡️ Digging Into The Sh*t
Reframe limiting beliefs so you can see that what you want is possible, you're worthy of it, and it's meant for you. Uncover the subconscious patterns that you aren't even aware of and learn how to reframe them with rock solid beliefs and patterning tools to reframe how you think, act, feel, and resonate. We'll dive into your beliefs about money, team, influence, and being who you truly are.

→Week Four:
⚡️ Getting Divine Downloads
Learn how to get divine downloads on demand. It's basically like Netflix for spiritually making money, being in your highest resonance and most aligned state. Think feelings of love and gratitude filling your body, staying connected to who you are, what you're here to do, who you're here to serve, and the power of your gifts. This is how I design every program, write every piece of content, and show up for my clients.

→Week Five
⚡️Boundaries
Doubters be gone from your mind!! I'm showing you how to deal with people who aren't on board with your goals, how to have mindset boundaries with yourself, and stop questioning your inspired ideas. You'll get clear on how to raise your standard of doing business to bring more ease and joy in. I'm also giving you my Deal With It When You Feel It practice to know how to handle any resistance that comes up, so you can shift it fast, and go to your next level whenever you decide to.

→there's more
⚡️Bonuses
ONE: Attract Aligned Clients Training - This recorded training will teach you exactly how to get clear on the type of clients you're available for and how to attract them so they start reaching out to you!
TWO: Create Inspired Offers Training - Want to know how to create offers that people resonate with and buy, no matter what the size of your list is or if you have a small community? This is it. Inspired offers are the ones that sell!
Want in?
Receive Instant Access To All Content Upon Enrollment
You Have All Content And Updates For Life
enroll now and receive
a bonus live training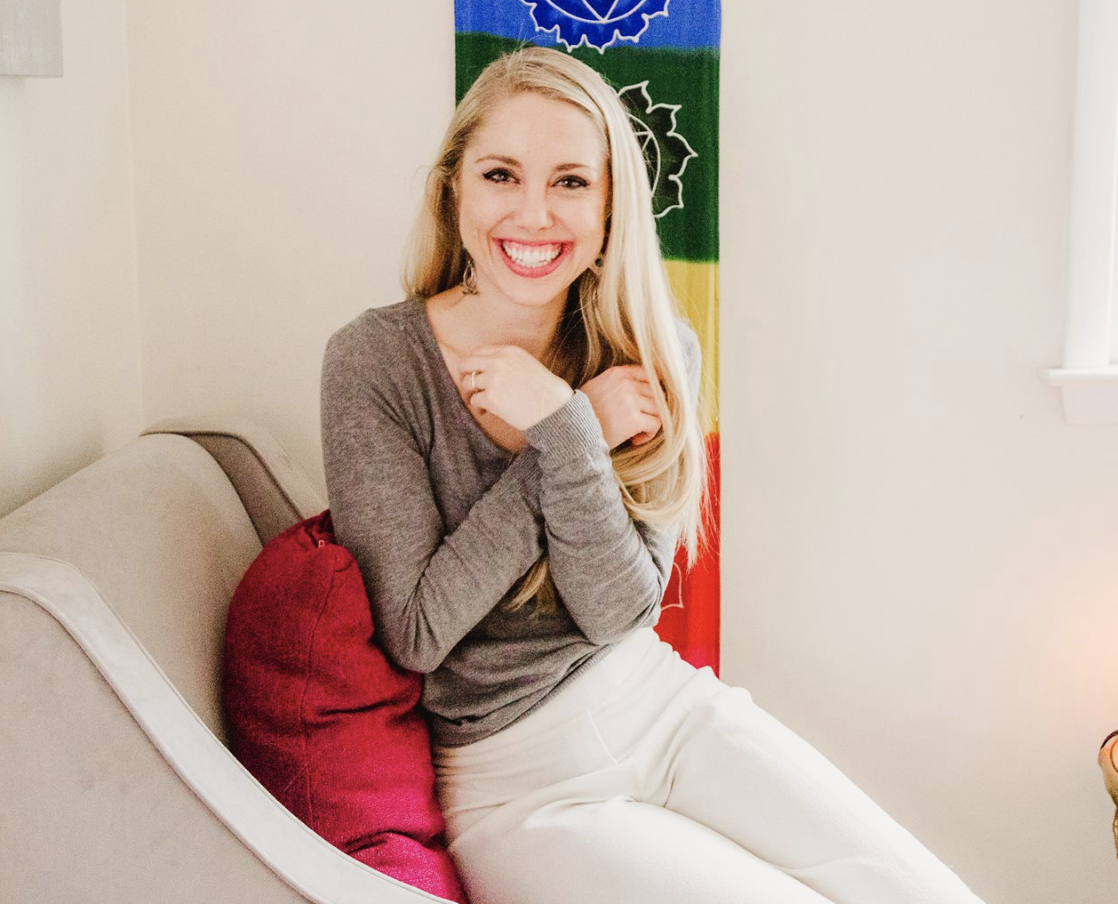 "I've never felt more powerful than the day I signed up for this program. Before I was working with Ariel, I was barely scraping by and just hoping and praying the next client would come, one at a time. I didn't know how to use my intuition in my structured business, and I didn't know how to make money consistently as a coach. Luckily, the day I signed up for Ariel's program, the whole game changed. She made me realize I am the authority of my own life! I then made my biggest sale yet, $4,500, and became fully booked. I then had a $19,000 month in sales which was my biggest month in sales yet. I'm so grateful to Ariel for her service mindset and strong coaching. She saw my purposeful potential and lifted me to my own next level. I finally feel like I am in the drivers seat, following and creating my own desires."
Colleen Coles
Purpose Alignment Coach
"When everyone else was packing it in for the year, I decided to make a big pivot in my business and take on clients, create a small group program AND a mastermind. Of course, I hired Ariel to help with the transition! We've booked in $213K in sales just from the new offer in one month, with $113k in cash."
Mariah Coz
CEO At Mariah Coz
The Details
What You Get
→5 WEEKS OF TRAINING
Get ready to have your mind blown! When we're done with these trainings and real life practical examples of how I've used my manifesting techniques to create massive sh*t in my life, you'll know exactly how to do the same for yourself.
→ BONUSES
Attract Aligned Clients Training

Create Inspired Offers Training

Members Facebook group where you can connect and collab with likeminded, driven women who know that they if they believe it, they'll see it.

Exclusive Offers on Ariel's programs released in 2019

BRAND NEW: LIVE Manifesting At Higher Levels Training

BRAND NEW: Receive Money Now - How To Manifest More In your Coaching Business
Who You Need To Be
You can use the information I'm sharing with you and this container that I'm holding to manifest huge amounts of money, new relationships, amazing clients, homes, solutions, joy, and more happiness! That's 100% real, true and a fact. You have to come into this program deciding that you are going to get everything you need out of it. You have to have the fierce determination to meet your goals. You have to trust the process and do the work. You need to be the woman who is relentless in making her dream happen.
Who You'll Become
If you do that..and I know you will because that's the woman I attract into my work..you will be successful AF. You will know how to make a true decision and hold the space for it until it appears in your life. You will feel that you have control over your life and that whatever desires you decide you deserve, are possible for you right now. And. You. Will. Have. Them.
Hey! I'm Ariel Frey
I'm a mama, intuitive success coach, business strategist, course creator, and smarty pants behind the Ariel Frey brand.
I've had a multiple 6 figure business for the last four years and we're on track for a million in 2019.
Having worked with clients from around the world in my courses, events, masterminds, and private coaching I've seen the biggest truths about how you actually create success.
It's never about the strategy. It's not about doing more.
Your 6 figure or 7 figure business, trips around the world, the partner of your damn dreams, is all about who you are BEING.
I'm not going to try to fit you in a box. I know that you can create a 6 figure business without even having a website, because I've done it.
I'm here to teach you how to create what you want out of thin air even when it doesn't look possible, even when no one else can see it, and even when your dreams are crazy big.
This is how I manifested my first $20,000 month, created a $70,000 program launch the very first time I ever launched anything, and hit my first $100K month.
It's why my private coaching is consistently booked and people have flown from across the world to come to my events.
Let's make the same kind of results happen for you.
FAQ
Is this just for coaches?
Heck no, jo! This is for hella ambitious female entrepreneurs who want to take their business to the next level and know that they are meant for wayyy more. I've done this work with salon owners, online business managers, virtual assistants, and even online boutique owners. This is the inner work for entrepreneurs! If you want to manifest more money, this is for you.
What if I'm just starting my business. Is this for me?
Absolutely! This is the foundational work that you need to know now and go back to again and again. This work is what I did to book my first $2000 client, do my first $20K month and then hit my first $100K month.
I'm really busy right now. Will I be able to get it now and access the content later?
100%. You have the content forever.
What can I expect from this course?
You can expect to know exactly how to create everything you desire and more. Once you know how to master your mind and have the daily practices to put the work to work every day, you're golden. The possibilities are seriously limitless!
Can you guarantee that I make money?
Nope, I can't. That's actually a good thing! Your success is your responsibility and that's the most empowering way to live your life!! So I'd never want to guarantee your results because that would be taking away the power you have to create magic for yourself. What I can guarantee is that when you do the work I'm sharing with you and you go all in, you will see results. I can also guarantee you that every single testimonial on this page is real and that my clients who do my work, get big results.
'"Before working with Ariel, my business was doing fine financially, but I was essentially miserable every day. The sales strategy I had been using felt completely out of alignment, but it's what "gurus" had taught. My mind was so stuck on doing things the way others were doing things, and seeing that as the only way. I'm so glad Ariel helped me break free of that! Since working with Ariel, I now work way less (sometimes only 2 hours a day), I'm 100000x happier, and I just hit my biggest month I've ever had - $23,000.
Ariel doesn't try to push her ways on you. She helps you figure out YOUR way -- in terms of alignment, what makes sense for YOUR business, and financial (and mental) sustainability. It's been SO refreshing!"
Erica Wernick
Hollywood Success Coach
A little note!
Love, you are not alone in this. Money doesn't have to be a struggle anymore. I know you're over it and I'm soo over seeing you in it! Here's the truth.
Knowing that you have the power to create anything you want and understanding how to use your power, is what will get you further than any business strategy.
What I'm teaching you is exactly what made me my first $20K month as a coach, in my 3rd month in business.
It's what created my booked out programs in my very first year in business. It's what attracts clients to me who love paying me five figures for my work!
Your gifts are meant to be in the world. You are destined to reach so many people. I know you know that. The way you do it is by understanding the power you already have within you.
Attract the right people, get massively compensated for your work, and serve to the level you know you're here for.
There's nothing stopping you from manifesting millions of dollars and more in your lifetime. It's your choice to go all in with the work. Once you know it…it's rinse and repeat forever.
Your success isn't riding on you doing more. It's waiting for you to choose your next level of being.
Be who you are, have what you truly want, and know that the life you get to live is always your choice.
All my love,
Ariel Frey
Are you ready?
Receive Instant Access To All Content Upon Enrollment
You Have All Content And Updates For Life
enroll now and receive
a bonus live training